Mirage recreated in Minecraft looks as good as Source 2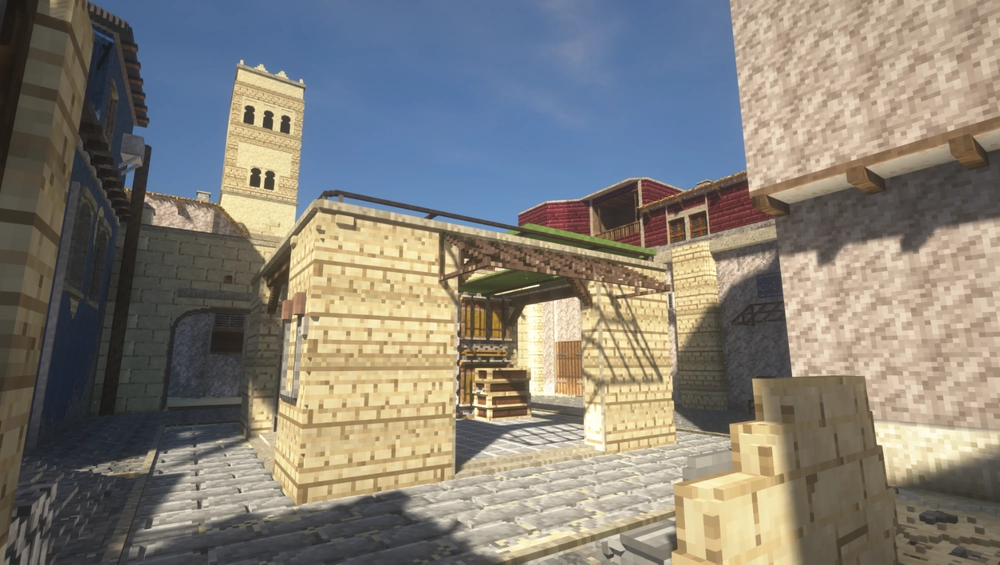 A skilled Minecraft maestro just built Counter-Strike map Mirage, and it is looking gorgeous.
An experienced Minecraft builder has recreated one of the most iconic maps in Counter-Strike: Global Offensive. CSGO veterans probably have Mirage burned into their brains by now, but this new version gives the map a completely new look. While not available to download in either CSGO or Minecraft, there are several blocky maps that players can actually use from the Steam Workshop.
SediSeege31 revealed his creation on social media on April 30. While fully rendered in Minecraft, the images use special lighting and filters to replicate Mirage's look in CSGO. The builder picked up on every detail, from the chainlink fences in tunnel to the intricate piping in back alley. This version of Mirage is made entirely in Minecraft, so don't expect to find it on the CSGO community workshop.
CSGO players with experience in Minecraft probably notice that several textures and block types shown in the Mirage build are not actually blocks. This CSGO map mod was made using Chisels and Bits, a community mod that allows players to remove and reconstruct blocks pixel-by-pixel. Mirage would be a very tall order to make in vanilla Minecraft.
Mirage Minecraft maps are available on Steam Workshop
While this version of Minecraft Mirage isn't playable in CSGO, a few other map creators have remastered the iconic map in a blocky style. De_mirage_minecraft by Morabotti is a minimalist take on the map. The entire thing is made with vanilla Minecraft blocks ported into the Source engine. Torches light up palace and tunnels instead of the usual lighting. Even the vent is replaced with Minecraft trap doors.
If you prefer something a little more advanced, check out DE_Mirage (Minecraft) by DaNbKa instead. This version of the map uses a few model edits and custom textures to preserve the feel of the original Mirage. It still has plenty of Minecraft flavor, such as the redstone lines marking out the bombsites. Both maps are fully functional and completely free from the CSGO community Workshop.